This year for Lent I thought I'd like to do the Way of the Cross with my daughter in a more detailed way. Last year I used a black and white copy of the stations of the cross form Catholic Art Work. I want to do something appropriate for children so I decided on purchasing and using the Glory Stories: Passion of Christ – Way of the Cross CD from Holy Heros. 
To accompany the CD, I also bought Holy Heros – The Road to Calvary Colouring book, so my daughter could have the visuals to go along with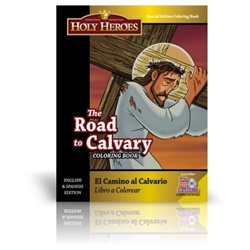 the CD. This set looks great, looking forward to do this with my daughter this Lent. I will also be giving these to my godsons too.
Description of the Way of the Cross CD from Holy Hero's Website: "Mesmerizing way for our children to learn about and pray the Stations of the Cross. Children hear other children leading the prayers and offering short meditations and resolutions which match their own lives and connect them to Christ: obedience, telling the truth, trying again and again, making sacrifices for the ones they love, and more. Each station is described with sound effects which inspire the imagination as if you are there…and parents will learn something at the same time! English and Spanish on the same CD."